What Is An Electrical Control Panel? (Plc Panel Basics)?
Panel
Have you ever wondered how an automobile assembly works and functions? if you are here right now, chances are that yes, you have given some thought to it. Well, let's tell you this way that an automobile assembly line is controlled with an Electronic Control Panel and that's what we are here to talk about today.
An Electronic Control Panel is no less than a human body because in the human body, we all know how some important organs are responsible for the functioning and monitoring of our surroundings. Similarly, an Electrical Control Panel is a box that's full of electrical devices that control and monitor the mechanical process of let's say an "automobile assembly" electrically.
The market out there is full of different types of these control panels. Most importantly, a Multipurpose PLC Control Panel is what people use nowadays and you can easily get it in the market at an affordable price.
The Enclosure
First of all, let's talk about the main covering of this panel which is also known as enclosure. As said earlier, an enclosure is a metal box that has all the electrical devices inside that control and monitor different mechanical process. The sizes of enclosure always vary as per the size of the process and these enclosures are made up of aluminum and sometimes metal. There are multiple sections inside an enclosure and each section comes with an access door.
If you want to buy one, you'll have to address the size of the enclosure by the number of sections it has inside. For example, if you want one that comes with a single section, you'll have to ask for a "one-door" and if you want the one that comes with two sections, you'll ask for a "Two-door" from the seller.
Wiring Ducts, DIN Rails And Back Panels
The back panel is nothing but a sheet of metal that's mounted right on the backside, inside the enclosure. This is the sheet where you can make as many holes as you want to connect the electrical devices inside. On the other hand, if we talk about the DIN rail, well, it's just a metal rail that comes with a standard width that's used to mount the electrical devices. As far as the wiring ducts are concerned, well, they are used to route all the wires in an organized way so that you don't have to go through any hassle while connecting them.
The Electrical Components
Now that we have talked about all the major components of the body of an Electrical Control Panel. Let's discuss the Electrical Components too. Starting with;
Main Circuit Breaker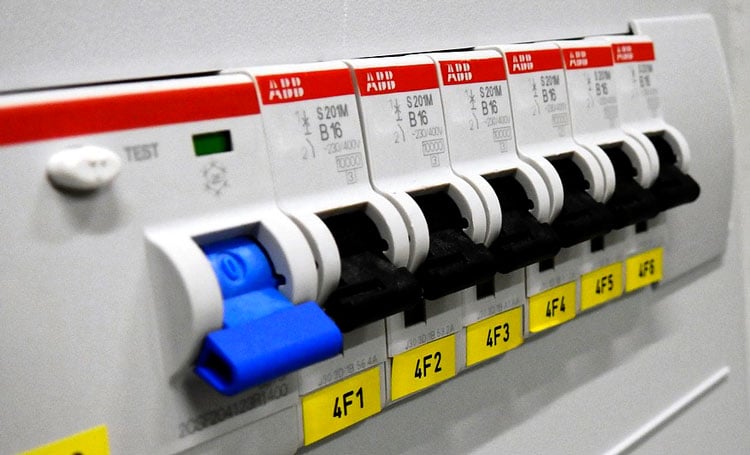 Of course, the main power comes from the main circuit breaker. In case you want to shut the power of completely from the main, all you have to do is to disconnect the main circuit breaker and that's it. Just make sure to use safety measures because even when you shut it off, the topside of the breaker will still have power so you should be handling it with care.
Surge Arrester
When the power comes in from the circuit breaker, it then runs in the surge arrester. A surge arrester is the component that's responsible for protecting all the other important electrical devices mounted.
PLC ( Programmable Logic Controller)
The PLC is the brain of this panel and it's the main component that controls all the devices and monitors them. The PLC comes with a CPU where all of the major logic program is stored. It comes with associated outputs and inputs that will help in controlling and monitoring the assembly.
This is the basic understanding of an Electrical Control Panel that you must have. We hope that it's all pretty clear to you now but this isn't it and there's a lot more to learn about this panel before you buy one and use one.